M A R I A
- M A R Y A M -
PURA MARYAM SOPHYAH
www.puramaryam.de / Berlin, Germany
UNCONDITIONAL LOVE
The Characteristics of Unconditional LOVE
(Qualities of the Heart)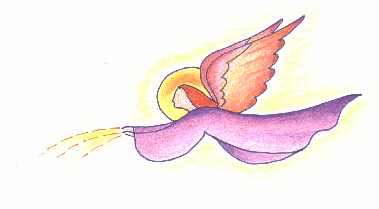 ... and Jesus said:
"...Love GOD with all your heart and with your soul and with all your strength.
This is the first and the greatest commandment, and the second is just like it:
Love those next to you, just like you love yourself.
There are no commandments greater than those'..."

(from "The Gospel of Peace of the Essene Community",
part of the scrolls of Qumran at the Dead Sea, today in the Vatican,
in the translation of Dr. Edmond Bordeaux Székely, Verlag Bruno Martin
(from where we can see, that Jesus must have been a master of LIGHTWORK)

UNCONDITIONAL LOVE is NON-POLAR, is HEAVENLY LOVE
The Characteristics of UNCONDITIONAL LOVE:
ACCEPTANCE (of ALL, with no exception!)
ANGER ( = 'righteous anger', like Jesus clearing the Temple from the traders who were dishonoring GOD with their business)
BALANCE (being centered within the HEART)
BEING WITHOUT JUDGEMENT ( = in the sense of: not judging other people)
BOUNDLESSNESS (within and without)
BROADMINDEDNESS (without limitations)
BROTHERLINESS (regarding LIFE of any kind as BROTHERS and SISTERS)
CLEANLINESS ( = within and without; PURETY)
CLEVERNESS ( = active INTELLIGENCE + KNOWLEDGE + WISDOM)
COMPASSION ( = IDENTIFICATION is the key to COMPASSION)
COURAGE (of HEART) ( = daring in GOD without RISK)
CREATIVITY ( = SEXUALITY in ACTION)
DEPENDABILITY ( = boundless RELIABILITY)
DEVOTION (to GOD, and in SERVICE TO HIM to ALL)
DISCIPLINE ( = utmost self-control without any force or obligation)
ENTHUSIASM ( you feel ENTHUSIASM with everything you do, no matter what you do, and with everyone you meet, any person you have to do with, because EVERYTHING, EVERYONE is just as IMPORTANT to you, just as LOVABLE, as an expression of being able to SERVE GOD in HIGHEST JOY and ENJOY LIFE)
EQUALITY ( = you cannot see any difference between all of GOD's CHILDREN, no matterhow high or low they seem to be)
EROTICISM ( = HOLY ATTRACTION between the male and female expression of GOD in HIS-HER CREATION))
FAITHFULNESS ( = deepest COMPASSION to GOD, and out of LOVE TO HIM also to other people, as well as to the LIFE TASK)
FIRMNESS ( = inner firmness, without any force, from out of your HEART )
FORGIVENESS (letting go of each hurt, each bad word out of LOVE, from the HEART)
FREEDOM ( the utmost inner WIDENESS, without inner and outer limitations)
FREEDOM OF DECISION ( and each decision is for HIM)
FREEDOM FROM EVALUATION OF OTHERS ( = in the sense of: not to evaluate other people)
FREEDOM OF HEART ( = boundless FREEDOM, with no influence from any outside force)
FREEDOM OF THINKING, FEELING AND ACTION (in HIS SERVICE, without any limitations, LIVING FROM YOUR HEART)
FREEDOM FROM WANT and NEED ( = springing from deepest CERTAINTY of being cared for, out of deepest TRUST to GOD)
GENEROSITY ( = LIVING the LAW of GIVING AND TAKING in the utmost way, in HIGHEST JOY and PLENTY, from the PLENTY of your HEART)
GIVING ( = giving FREELY, GIVING YOUR PLENTY from your HEART)
GOLDEN RULES (All of the Golden Rules are characteristics of LOVE)
GRATEFULNESS ( = to GOD: for HIS Beauty, for LOVE, for LIFE, and you regard all the other people as HIS Messengers)
HAPPINESS (= the state of LOVE, PLENTY
HARMLESSNESS ( = LIVING LOVINGLY)
HELPFULNESS (Giving out of LOVE, not for yourself)
HONESTY ( = LIVING the LOVING of TRUTH)
HONORING LIFE, meaning ALL Life: the life of other people, but also the life of animals, even the life of small insects, plants and stones
HONORING other people, without submissiveness, servility or arrogance
HONORING the property of other people
HONORING the property of our communities, our acquisitions and our environment; this includes houses, walls, public telephones and public transportation...
HONORING the rights and needs of other people
HUMILITY ( = TRUE humility from the HEART, not meekness)
HUMOR (without smiling or laughing about others, in HIGHEST LOVE)
INTELLIGENCE ( = the capability of grasping complex subjects and happenings, while analyzing them with former knowledge or gaining NEW CONCEPTIONS = LEARNING, as well as a fast integrating of NEW knowledge into the "knowledge bank", using this knowledge and profiting from it)
JOY (HE said: LOVE without JOY is unthinkable)
JUSTICE ( = Spreading LOVE on everyone and everything)
LETTING GO ( = Releasing everything in LOVE!)
MEEKNESS ( = FREEDOM from any type of aggressiveness and animosity)
MODESTY ( = living in LOVE with others, while being conscious of your own GREATNESS and the GLORY OF GOD)
MERCIFULNESS ( = turning to GOD, or to others with all your HEART, to SERVE and help without the least selfishness)
OBEDIENCE (only to your conscience and GOD!)
OPENNESS ( = unlimited opening within and without)
ORDERLINESS (within and without)
PARDONING ( = similar to FORGIVING, but on a lower level, not as extensive as FORGIVING)
PEACE ( = complete STILLNESS OF HEART in its highest aspect)
PEACEFULNESS ( = the Readiness to spread PEACE by action)
PERCEVERANCE ( = staying attached with your LOVING HEART on a certain action, subject or problem, until that is accomplished or solved)
PUNCTUALITY (honoring the time of others)
PURITY (of thoughts, feelings and actions)
RELEASING (= Letting go - everything!)
RELIABILITY ( = the BEING and MIND is set on founding TRUST and fulfilling it)
RIGHTEOUSNESS ( = PERCEVERANCE in following the WAY of LOVE)
SEVERITY (Firmness springing from LOVE, without force or fear)
SERVING GOD (with all your HEART and boundless JOY)
SPIRIT OF DARING ( = the Courage of DARING FOR GOD)
SPIRIT OF SACRIFICE (Jesus CHRIST and many other LIGHTBEINGS) - The true Spirit of Sacrifice: SERVING GOD without expectations or demands
SPONTANEITY ( = become like a little child and follow your wishes at once, whenever they appear)
STEADFASTNESS ( = being FIRM in your will, your mind and actions while being in LOVE, withour any trace of stubbornness or rigidity)
SURRENDER - COMPASSIONATE SURRENDER TO ALL OF CREATION, UP TO BEING IDENTICAL WITH EVERY FORM OF LIFE CREATED
SYMPATHY (Identification is the key to sympathy)
TRANQUILITY ( = inner silence, springing from the LOVING HEART)
TRUST IN GOD ( = to give oneself into GOD'S HANDS and staying there in HIGHEST LOVE, with the ABSOLUTE KNOWLEDGE of utter safety, security and absolute wellbeing)
TRUTHFULNESS ( = LIVING TRUTH out of a LOVING HEART, LOVING TRUTH as a integral PART OF GOD)
UNDERSTANDING ( = by your own KNOWLEDGE and EXPERIENCE => that makes possible IDENTIFICATION and COMPASSION)
VERACITY ( = following the WAY of the HEART in unbendable STEADFASTNESS, with TRUTH as the ultimate GOAL)
WILL-POWER ( = following your own wishes until they are fulfilled, finishing of all your projects, because in your HEART you feel the inner urge to stay with a subject until it is done and to accomplish what you begin)
and many more...
You can go with your HEART-Chakra in Resonance to each of those characeristics and find our for yourself what the fine differences between them are. That says more than a thousand words. If you do not feel the difference right away, be sure that your HEART will be cleared from hindering blockages soon and learn to adjust, until it has besome a fine precision instrument, which registers the finest emotion (Learn more about this here).

UNCONDITIONAL LOVE leads to...
CLOSENESS TO GOD
DIGNITY
FREEDOM
GROWTH (inner GROWTH)
HAPPINESS
HARMONY
INDEPENDENCE
LIFE
SELF-RESPONSIBILITY
Perhaps you are surprised that the so-called 'Prussian Virtues' are listed among the characteristics of UNCONDITIONAL LOVE, like discipline, firmness, punctuality, faithfulness, order and cleanliness. They are QUALITIES OF LOVE, but only if LOVE is included. Firmness without LOVE is harshness or sharpness - order without LOVE is pedantry - discipline without LOVE is pressure (see also here). The Prussian Kings have originally been initiates. More about Prussia and its virtues can be found here.
It is vital to differentiate between UNCONDITIONAL LOVE and human Love - yet men have always thought they were one and the same, which was a vital error! And that has been and still is the cause for suffering and evil on Earth, and it is also the reason that the teachings of Jesus CHRIST have been misunderstood and unfullfillable up to today: MEN did not realize that Jesus was talking about a completely different type of love than they knew, so they thought that they were loving already, while nonetheless His demands on them remained unfullfilled, leaving them frustrated and hopeless, thinking they were too small to ever live up to Jesus... (see also here)
But when you are in UNCONDITIONAL LOVE, you cannot help but fulfill all of Jesus' demands, because you have to live that way! And so you need no ten commandments and no Golden Rules, because you could not help but LIVE them!
And no matter which religion you practice, which faith you follow, which spiritual rules you keep, whether you practive Yoga, do Energywork, meditation or whatever else, all your knowledge will be of no avail to you, if you do not LIVE UNCONDITIONAL LOVE - but when you do, you need no other techniques, no further knowledge at all!

Only UNCONDITIONAL LOVE encreases your vibrations more and more.
Only UNCONDITIONAL LOVE makes you develop the Mer-Ka-Ba.
Only UNCONDITIONAL LOVE makes you develop your LIGHTBODY.
UNCONDITIONAL LOVE IS THE SECRET OF ETERNAL YOUTH!
Only UNCONDITIONAL LOVE can conquer everything, even darkness!
Nothing is more POWER-ful than UNCONDITIONAL LOVE!
UNCONDITIONAL LOVE can HEAL EVERYTHING,
CHANGE EVERYTHING - ourselves and everything around us!
Why is that so?
Because LOVE is NON-POLAR and has the highest vibrations, just as LIGHT!
The Cosmic LAW of HARMONY and BALANCE says:
'HARMONY is the flow of LIFE. Everything is aiming for harmony, for balance.
The STRONG controls the WEAK with the aim to equalize it.
LIFE is harmonious togetherness, is the GIVING and TAKING of elements and powers active in CREATION...'
STRONG is, what is swinging with high vibrations, WEAK is, what is swinging with low vibrations.
As there is nothing swinging higher than LOVE, than LIGHT, LIGHT and LOVE are the STRONGEST POWERS of all.
UNCONDITIONAL LOVE can achieve everything! And nothing in the world can stop UNCONDITIONAL LOVE!

LOVE is flooding the Universe

Down from the deep and high up to the Stars
LOVE is flooding the Universe,
loving, wellmeaning to all,
as SHE gave the KING, the Highest,
the Kiss of Peace.

Hildegard of Bingen
(from the booklet "Hildegard of Bingen - songs", Diogenes Verlag
in the series 'Little Diogenes Pocketbooks', translation od the songs from the Latin
by Adelgundis Führkötter)

Index of all Pages - Alphabetical Register - Seminars
Indicating the source and without alteration, these pages may be quoted, copied
and given on freely for private noncommercial use only.
Copyright